A Pacific Council delegation recently traveled to Honolulu, Hawaii, to explore U.S. foreign policy in the Asia-Pacific. Briefings covered U.S.-China relations, the U.S. "Rebalance to Asia," North Korea's nuclear weapon development, extremism in South Asia, Russia's resurgence, cybersecurity, and more.
Delegates met with colleagues at the East-West Center and the Daniel K. Inouye Asia Pacific Center for Security Studies, among other groups, and visited America's largest unified combatant command center: U.S. Pacific Command and U.S. Pacific Fleet.
Several key themes emerged from the visit.
The "Rebalance" to Asia and the Pacific
In 2011, President Obama announced that the United States would refocus its efforts – diplomatically, militarily, and economically – in a "Pivot to Asia." The narrative shifted a year later to a "rebalance" designed to achieve two objectives: to embed the United States more deeply in the world's most dynamic economic region, and to prevent a regional vacuum to be filled predominantly by China. Washington aimed to promote stability in the region, strengthen relationships with allies, and expand trade and investment.
As U.S. troops are withdrawn from Afghanistan, their efforts will focus on the Asia-Pacific region.
China's economic growth and strengthening military have also led to the development of defense measures as a major part of the rebalance. As U.S. troops are withdrawn from Afghanistan, defense efforts will focus on the Asia-Pacific region, particularly Hawaii, Alaska, and Japan, and U.S. armed forces on the Korean peninsula will be reinforced. The Department of Defense aims to have "60 percent of U.S. Air Force and Navy forces in the Asia-Pacific region by 2020."
The United States has also developed what is known as the Terminal High Altitude Area Defense (THAAD) system, an anti-ballistic missile interceptor. The system is "primarily tasked with taking out threatening ballistic missiles in what is known as their 'terminal' phase (the 'T' in the acronym)."
A new containment strategy?
Beijing tends to perceive the rebalance as a containment strategy, particularly given the U.S. military presence in the region. But the Pacific Council's interlocutors on this visit argued that the Obama administration's efforts represent a stark departure from the containment strategy of the Cold War era, which aimed to inhibit all forces of Soviet power. President Obama told President Xi Jinping that he "welcomes the rise of a China that is peaceful, stable, prosperous, and a responsible player in global affairs."
Indeed, the U.S. rebalance effort touts a strong soft power component. The United States joined the East Asia Summit (EAS) in 2012 and appointed a U.S. Ambassador to ASEAN to strengthen relationships with Indonesia, Malaysia, Singapore, Vietnam, and India. The United States has also deepened alliances with South Korea and Japan – a key trilateral relationship in the region.
The rebalance may be considered a strategy of engagement with characteristics of containment, or as one analyst put it, "smart congagement."
While the rebalance is not outright containment in the classic sense, it is a strategy designed to promote economic stability, access, and growth while encouraging China to be a responsible, international actor. In this sense, the rebalance may be considered a strategy of engagement with characteristics of containment, or as one analyst put it, "smart congagement." In his April 2016 interview with the Atlantic, President Obama told Jeffrey Goldberg: "If we get that right and China continues on a peaceful rise, then we have a partner that is growing in capability and sharing with us the burdens and responsibilities of maintaining an international order."
Is China rising peacefully?
Over the past several years, China and neighboring countries in the region have been embroiled in territorial claims in the South China Sea. China has laid claim to key island chains contested by Vietnam and the Philippines, including the Paracel and Spratley Islands and the Scarborough Shoal. Vietnam, Malaysia, the Philippines, Taiwan, and China have all engaged in land reclamation and island-building in these waters.
China has eclipsed the others' efforts by expanding and building artificial islands at the rate of 3,000 acres in two years. The Fiery Cross Reef, one of China's largest and strategically important islands, has burgeoned from a large coral reef to a major military base. Satellite imaging shows air strips, ports, radar facilities, solar arrays, lighthouses, and support buildings. In response to China's posture in the South China Sea, President Obama has on several occasions sent U.S. Navy missile destroyers to conduct Freedom of Navigation (FON) operations in an effort to quell tensions. These operations often draw condemnation from Beijing's defense ministry.
Given the geostrategic importance of the South China Sea, the rebalance efforts must ensure that disputes do not escalate: greater instability will be dangerous.
The implications of any one country dominating the South China Sea are far-reaching. Potentially large oil and gas reserves sit beneath the ocean floor. It serves as one of the major global commercial transit routes, with $5 trillion worth of imports and exports passing through each year – $1.2 trillion of which constitutes U.S. bilateral trade alone. Global trade through these choke points makes up more than half of the world's annual merchant fleet tonnage and a third of all maritime traffic worldwide. And the South China Sea is a major fishery for the region: a vast community depends on the industry for their livelihood.
Given the geostrategic importance of the South China Sea, the rebalance efforts must ensure that disputes do not escalate: greater instability will be dangerous.
Interlocutors also pointed out the pull of U.S. bilateral security alliances with Japan, the Philippines, South Korea, Taiwan, Thailand, and Australia. These alliances - which fall within the U.S. Pacific Command's area of responsibility - assure that the United States would come to the defense of these countries should a conflict arise. According to the Brookings Institution, "The American presence in East Asia has been reassuring to allies, and our naval and air deployments beyond the region have played a major role in protecting the key energy trade routes." China's militarization of the South China Sea increases the chance of a conflict with U.S. allies, thereby increasing the chance of conflict between the United States and China.
Growing economic collaboration
China and the United States are concurrently becoming more and more economically interdependent, which is a counterbalance to possible sources of conflict: policymakers in both countries have a strong incentive to prefer cooperation.
U.S. businesses have looked to China as a location for expansion since the country opened its borders to foreign trade. Companies like Avon and KFC saw China as a new revenue frontier given the growing Chinese middle class and huge overall population. Today, major U.S. companies such as Apple, GM, and Nike have high market shares in China. Moreover, China's ability to produce goods at low labor costs has made it a disproportionately large supplier of U.S. imports – particularly for computer products, clothing, and toys.
Today more than $700 billion in trade flows between China and the United States. From 2015 to 2016, Chinese investment in the U.S. economy has so far doubled, reaching $30 billion.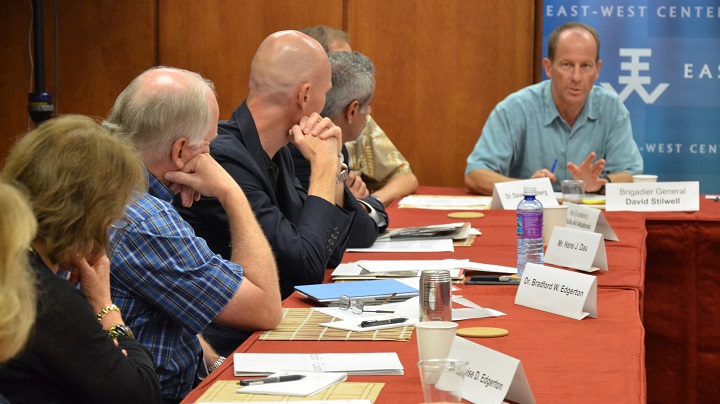 These investments could help generate more U.S. jobs and speed growth. According to a report by CSIS, economic collaboration between the two countries also helps diminish poverty in China and promotes global economic growth.
Problems remain in the economic realm. In 2015, the United States reached a $336.2 billion trade deficit with China: critics point out this disproportionate import-export relationship as a weakness.
Looking ahead: policy considerations
What lies ahead for U.S. policy in the Asia-Pacific under the future administration of President-elect Donald J. Trump?
Analysts meeting with the Pacific Council on this visit hesitated to make assumptions about U.S. President-elect Donald Trump's future actions regarding the South China Sea, given his anti-China rhetoric and vows to abandon allies in the region during his campaign. His plan is unclear as yet. Candidate Trump promised to strengthen the U.S. military and "discourage Chinese adventurism that imperils American interests in Asia."
One policy that remains clear is the president-elect's vehement opposition to the Trans-Pacific Partnership (TPP). After passionate bipartisan opposition during the election, Obama's cornerstone economic policy in the rebalance to Asia is unlikely to be passed, despite predictions by the U.S. International Trade Commission that the TPP would actually lead to slight increases in U.S. GDP (0.15%, or $42.7 billion) and add 128,000 full-time jobs by 2032. The gains would be a tradeoff between lost manufacturing jobs and increased profits from food and agriculture trade.
Given the importance of the U.S.-China relationship and alliances in the Asia-Pacific region, the South China Sea will be a pressing issue for the next administration in Washington, as it has been for the current team. Policy must strike a balance among competing U.S. interests: preventing conflict, maintaining credibility with allies, and minimizing strain on relations with China.
____________________
Ms. Ashley McKenzie is Trips Officer and Ms. Jamie Skiba is a Junior Fellow at the Pacific Council.
Read more about Pacific Council delegations.
The views and opinions expressed here are those of the author and do not necessarily reflect the official policy or position of the Pacific Council.