A Pacific Council delegation recently traveled 25 miles south of downtown Los Angeles to visit a premier gateway for international trade and commerce: the Port of Los Angeles. Port leaders briefed the group on the port's local and global economic impact, its record-breaking cargo operations, and its ongoing environmental initiatives.
Located in San Pedro Bay, the Port of Los Angeles is the nation's top container port and leader in container volume and cargo value. Combined with the Port of Long Beach, it accounts for 40 percent of all goods that reach the United States from the sea.
In his briefing to Council members, Port Executive Director Gene Seroka highlighted the scale of operations at America's leading seaport: the port handles nearly $290 billion in cargo every year. Its operations and related commerce facilitate more than 148,000 jobs (about one in 12) in the City of Los Angeles and 531,000 jobs in the greater Southern California region. Together, the ports of Los Angeles and Long Beach support more than 1 million California jobs and 3.1 million jobs nationwide.
Seroka also discussed environmental goals and achievements, reporting that the Ports of Los Angeles and Long Beach have already met their 2023 Emissions goals.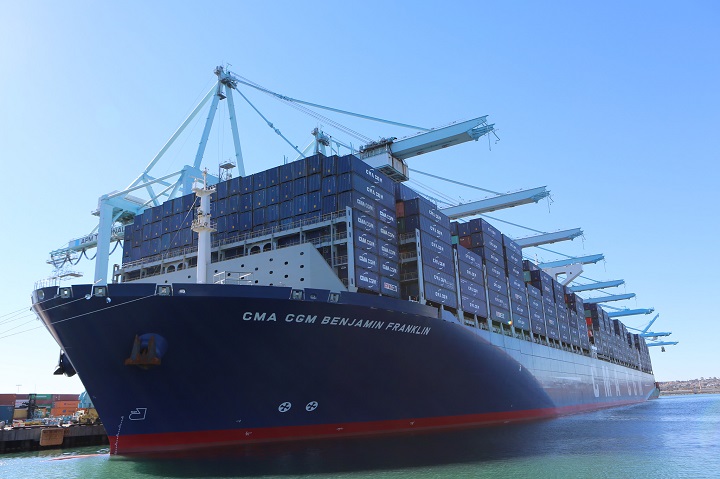 The Port of L.A. has made recent improvements to accommodate larger ships, Seroka told the group, highlighting the recent successful docking of the containership Benjamin Franklin (pictured above). The CMA Benjamin Franklin is the largest container vessel ever to arrive at a North American port: it is longer than the Empire State building and wider than an American football field. As U.S. ports in general lag behind Asia, the Middle East, and Europe on infrastructure development, Seroka said, it is increasingly important for the Port of Los Angeles to expand access for large containerships.
Check out some photos from the delegation's visit to the Port of Los Angeles here.
Learn more about Pacific Council delegations and our Local Field Forays.